Indoor Lampsite and wireless distribution system
The system is a solutions for medium and large enterprise class scale, easy to deploy and upgrade, meet the growing requirements of the network capacity and coverage, it can provide indoor network coverage to most people, can be said to redefine the small cellular, with industry breakthrough significance.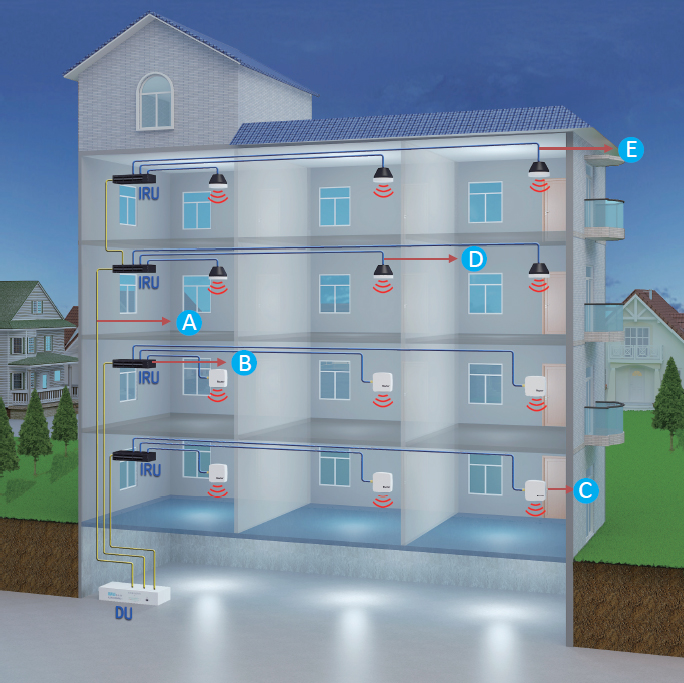 A.Fiber Optic Cable: Transmit light signal, immune to electromagnetic interference, Higher Bandwidths, Longer distance.
B.RHUB: CPRI signal to achieve the conversion of the GE signal, while the pRRU to achieve the integration of PoE and transmission of power supply.
C.Lampsite(Huawei pRRU): Indoor low power RF remote module, responsible for the RF signal transmission and processing between BBU and antenna system.
D.Radio Dot (Ericsson): Ultra minimalist appearance of the RF antenna by the standard LAN cable (5/6/7 class) connection and power supply.
E.PoE Cable: Power Over Ethernet Cable.
RELATED PRODUCTS
Temperature Range

PVC tape and Rubber tape: -18 - 130 °C;

Cold Shrink Tube: -65 - 200 °C;

Dielectric Strength

PVC tape and Rubber tape: 45.27 kV/mm;

Cold Shrink Tube:20.0 kV/mm;

Adhere(Steel)

3.08 N/cm (PVC tape)

Tensile Strength

≥ 2.5 kN/m / 2.0 mPa / 7.0 MPa

Tear Strength

≥ 25 KN/m (Cold Shrink Tube)

Cable Model

Feeder:1/4", 3/8", 1/2", 7/8", 1-1/4", 1-5/8";
Braided Wire:KSR400, KSR600, KSR900;


Frequency Range

Feeder:Up to 5 GHz; Braided: Up to 3 GHz;

Cable Model

Feeder:1/4", 3/8", 1/2", 7/8", 1-1/4", 1-5/8";
Braid Wire:KSR400, KSR600, KSR900;


Frequency Range

Feeder:Up to 5 GHz; Braided: Up to 3 GHz;

Cable Model

Feeder:1/4", 3/8", 1/2", 7/8", 1-1/4", 1-5/8";
Braid Wire:KSR400, KSR600, KSR900;


Frequency Range

Feeder:Up to 5 GHz; Braided: Up to 3 GHz;

Cable Model

Feeder:1/4", 3/8", 1/2", 7/8", 1-1/4", 1-5/8";
Braid Wire:KSR400, KSR600, KSR900;


Frequency Range

Feeder:Up to 5 GHz; Braided: Up to 3 GHz;