DAS is based on IEEE 802.11standard, and support CDMA、GSM、IDEN、TDMA、GPRS and UMTS etc. standard,DAS is a network of spatially separated antenna nodes connected to a common source via a transport medium that provides wireless service within a geographic area or structure. DAS antenna elevations are generally at or below the clutter level and node installations are compact. A distributed antenna system may be deployed indoors (an iDAS) or outdoors (an oDAS) .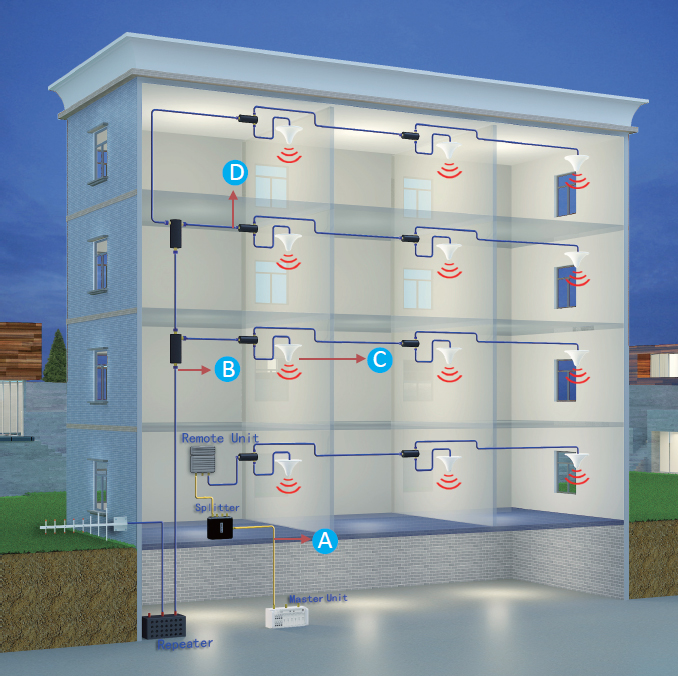 A.Fiber Optic Cable: Transmit light signal, immune to electromagnetic interference, Higher Bandwidths, Longer distance.
B.Coupler: A device used to connect some RF signal from major RF transmitting power.
C.Antenna: A device transmits and receives wireless signal.
D.Splitter: A device couples a defined amount of the electromagnetic power in a transmission line to a port enabling the signal to be used in another circuit.
RELATED PRODUCTS
Temperature Range

PVC tape and Rubber tape: -18 - 130 °C;

Cold Shrink Tube: -65 - 200 °C;

Dielectric Strength

PVC tape and Rubber tape: 45.27 kV/mm;

Cold Shrink Tube:20.0 kV/mm;

Adhere(Steel)

3.08 N/cm (PVC tape)

Tensile Strength

≥ 2.5 kN/m / 2.0 mPa / 7.0 MPa

Tear Strength

≥ 25 KN/m (Cold Shrink Tube)

Cable Model

Feeder:1/4", 3/8", 1/2", 7/8", 1-1/4", 1-5/8";
Braided Wire:KSR400, KSR600, KSR900;


Frequency Range

Feeder:Up to 5 GHz; Braided: Up to 3 GHz;

Cable Model

Feeder:1/4", 3/8", 1/2", 7/8", 1-1/4", 1-5/8";
Braid Wire:KSR400, KSR600, KSR900;


Frequency Range

Feeder:Up to 5 GHz; Braided: Up to 3 GHz;

Cable Model

Feeder:1/4", 3/8", 1/2", 7/8", 1-1/4", 1-5/8";
Braid Wire:KSR400, KSR600, KSR900;


Frequency Range

Feeder:Up to 5 GHz; Braided: Up to 3 GHz;

Cable Model

Feeder:1/4", 3/8", 1/2", 7/8", 1-1/4", 1-5/8";
Braid Wire:KSR400, KSR600, KSR900;


Frequency Range

Feeder:Up to 5 GHz; Braided: Up to 3 GHz;