Kingsignal attends the Singapore communications broadcasting show
time:2016/08/18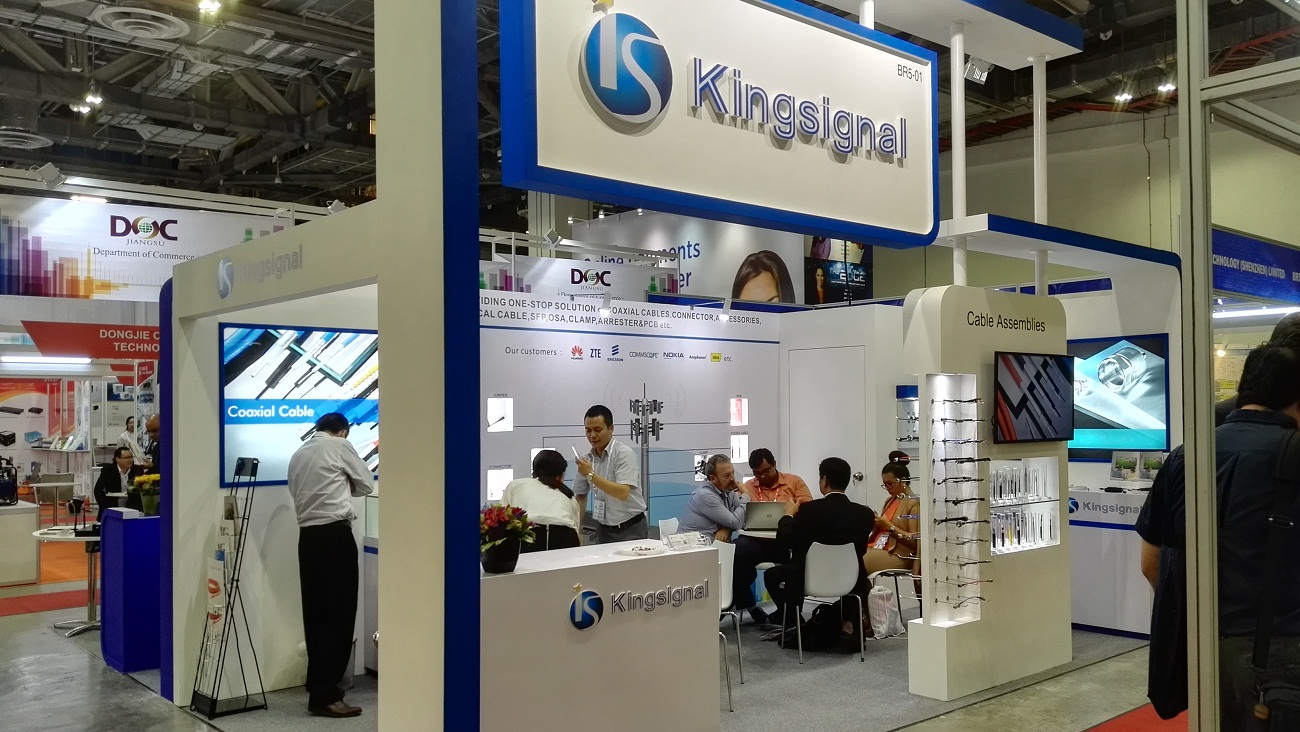 CommunicAsia exhibition is the largest knowledge sharing platform in the ICT (information and communication technology) industry in Asia. It is an important window for people in the industry to look forward to the industrial prospect and understand the current situation of the industry. This exhibition has been successfully held for 27 years, and has high popularity in the communication industry. The scale of the exhibition is large, from the b2-l3 of the exhibition hall to a total of 5 layers, and CommunicAsia focuses on a variety of key technologies and emerging technologies of the industry, covering all links from the latest communication technology, return network, system integration to end-user software and application. It mainly covers long-term evolution technology / 4G / 5G, connection equipment, optical fiber household, infrastructure and network solutions, augmented reality, mobile network, radio frequency and cable, satellite communication, smart city solutions, wireless technology and other technologies.
While presenting innovative results and reflecting industrial trends, CommunicAsia invited renowned ICT industry experts to participate in the summit meeting, and held a series of special conferences aimed at inspiring thinking and broadening vision to enable industry professionals and industrial elites to conduct exchanges and exchanges. CommunicAsia exhibition is a one-stop platform providing all-round services for the industry. Broadcast Asia is an exhibition jointly held with Enterprise IT and CommunicAsia. Broadcast Asia is highly acclaimed as a one-stop knowledge sharing platform for the broadcasting industry. It will showcase the convergence of different technologies through Asia's largest ICT platform, allowing the audience to experience the endless charm of convergence technologies under one roof. More than 20,000 industry professionals visited CommunicAsia/Enterprise IT to observe the latest trends of industrial development and the hot technologies and ICT technologies brought by exhibitors. Among them, overseas visitors accounted for 55% of the audience. Communication industry Anfeino, Catherine, DRAKA, TELEGARTNER, JMA domestic Hansheng, Henxin, Dumei, Tongyu, Sheng Lu, Changfei and other manufacturers have also come to the exhibition, so that the audience feast their eyes.
This exhibition Kingsignal mainly displays products and base station solutions, products mainly include coaxial cable, connector, coaxial component, network cable, optical module and optical component, as well as Type C data cable and HDMI. Through this exhibition to win the recognition of customers, and improve the visibility of KINGSIGNAL in south-east Asia.