Ericsson mobile report predicts that in 2022 the global 5G users will reach 550 million
author:Admin time:2015/12/10
According to foreign media reports, Ericsson's latest mobile report predicts that in 2022 the global 5G users will reach 550 million. North America will lead the rest of the world in terms of 5G usage: in 2022, 1/4 of mobile users in the region will use 5G. Asia Pacific region will become the fastest growing area of 5G users second, is expected in 2022 the region's 5G users will account for 10% of all users. From 2016 to 2022, the Middle East and Africa will achieve a major shift: from a majority of GSM /EDGE users in the region into WCDMA / HSPA and LTE users accounted for 80% of the region.
Expected by the end of 2016, the total global smartphone users will reach 3 billion 900 million. Nearly 90% of them will be registered for WCDMA / HSPA and LTE networks. Expected by 2022, the total number of smart phone users worldwide will increase to 6 billion 800 million, WCDMA / HSPA, LTE and 5G network registered users will be more than 95%.
Ericsson's chief strategy and technology officer Ai Huaxin (Ulf Ewaldsson), said: there are currently nearly 90% of smartphone users use 3G and 4G networks, is expected to be standardized 5G network will be launched in 2020. We have seen that the operator for the launch of the quasi 5G network showing strong interest. 5G will accelerate the digital transformation of many industries, so as to form a new use case in the field of networking, automation, transportation and big data."
The latest Ericsson mobile report also predicts that in 2022, the world will have 8 billion 900 million mobile users, of which the use of mobile broadband will be 90%. By then, individual users will reach 6 billion 100 million.
The third quarter of 2016, the world's new mobile subscribers by 84 million, the total reached 7 billion 500 million, an increase of about 3%. The net increase in the quarter is the largest in India (15 million), followed by China (New), Indonesia (New 6 million), Burma (New) and Philippines (add 4 million) (). Mobile broadband subscribers grew by about 25%, only in the third quarter of 2016 increased by about 190 million. Currently, the total global mobile broadband users is about 4 billion 100 million.
In addition, mobile data traffic continues to grow, this is mainly due to the number of intelligent mobile phone users increased, continued to increase and the average data per user usage (mainly because watch more video content). 2016 third quarter, data traffic growth of 10%, up by a large increase of 50%.
Other highlights of Ericsson's mobile report include:
Mobile video traffic is gradually dominant: by the end of 2022, mobile video traffic will grow at an annual rate of about 50%, accounting for nearly 75% of all mobile data traffic. Social networking is second only to the second largest video traffic type, is expected to grow by an annual rate of 39% in the next 6 years.
Real time streaming into social media: consumers are increasingly using real-time video streaming applications to interact with friends, family and followers. In the United States, about 1/5 of smartphone users are interested in real-time video broadcasting;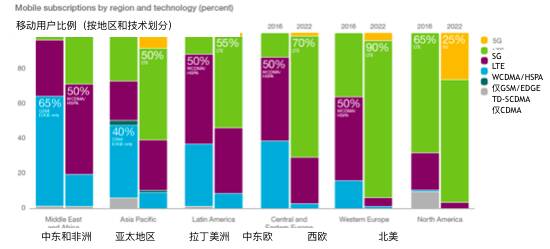 In India, Indonesia, Brazil and Oman and other high growth markets, the number of smartphone users interested in these applications is two times the United states.