Kingsignal's strategic stake in Sky Sea World signing ceremony was successfully completed
time:2018/12/07

December 7, 2018, Kingsignal 's(300252.SZ) strategic stake in the Sky Sea World signing ceremony was successfully held in Guangzhou Summer Hotel. Mr. Huang Changhua, Chairman of Kingsignal, Mr. Yu Wei, General Manager, Ms. Wu Wei, Secretary General and General Manager of Operations, Mr. Gong Fan, General Manager of R&D, Mr. Fu Wei, General Manager of Wireless and Optical Network Products, and Mr. Ye Feng, Chairman of Sky Sea World Mr. Qiu Zhiying, Managing Director, Mr. Liu Baocai, Deputy General Manager, Mr. Cheng Tianming, Director of Directors of Operations, and leaders of relevant cooperation units such as China Telecom attended the signing ceremony.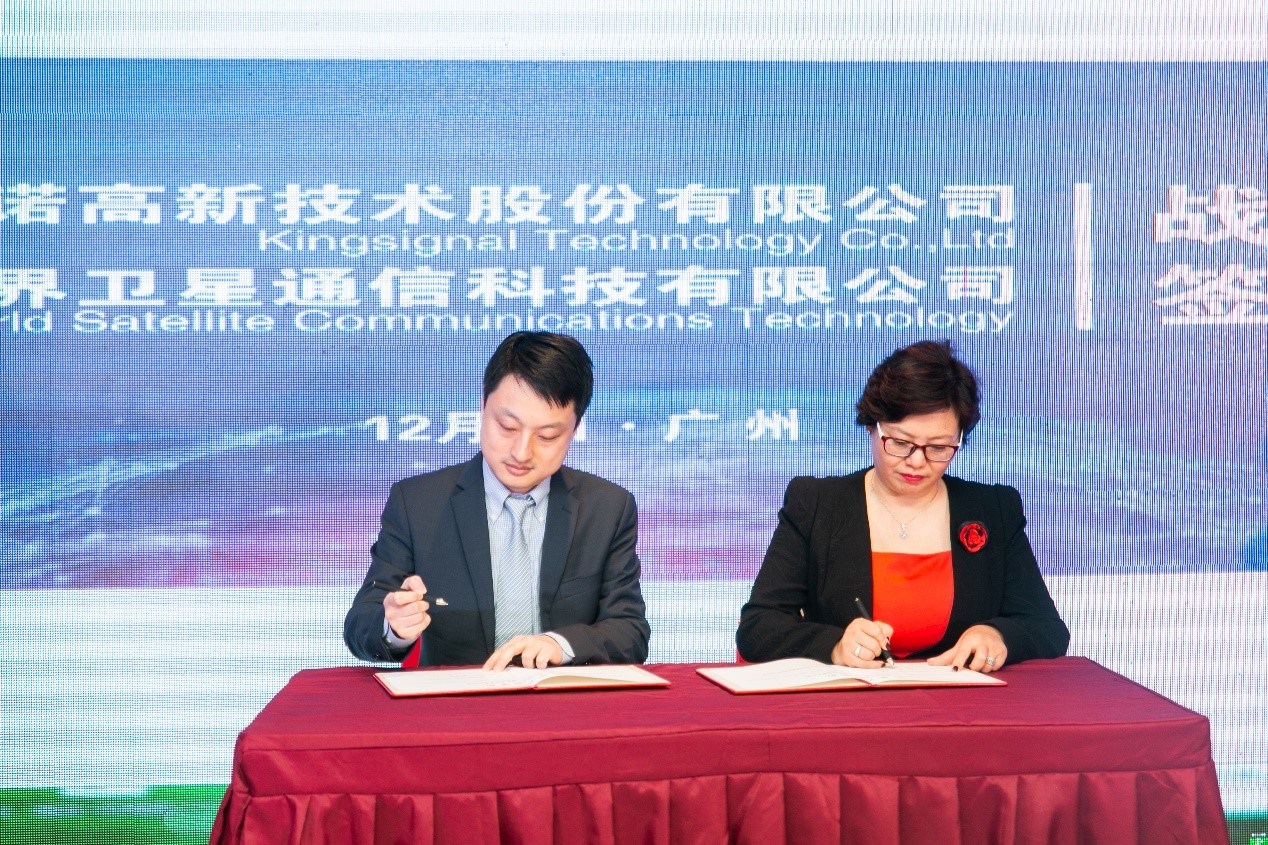 The cooperation between Kingsignal and Sky Sea World marks the official entry of Kingsignal into the field of satellite communication operations, which is of strategic significance to the development of Kingsignal. By providing users with a deep communication solution based on satellite communication, the entire industry chain from the cloud platform to the local server to the satellite gateway to the intelligent terminal has been opened, and the commercial closed loop from satellite Internet access to content operation to satellite terminal to scene intelligence has been completed.
In this cooperation, both parties will maximize their own advantages and jointly provide customers with comprehensive cost-optimized solutions. From Kingsignal's connection based on satellite communication solutions to the operation of Sky Sea World based on closed scenes, a new broadband satellite integrated application platform is established through a new broadband satellite access method. In areas where traditional means of communication cannot be reached or cannot provide services, the full coverage of satellite signals has been realized, which fundamentally solves the problem of "information islands" on land, sea and air.
​
Established in April 2002, Kingsignal is a high-tech private listed company (stock code: 300252) that integrates R&D, production and sales. It focuses on providing full series of signal interconnected products, programs and services for core customers of different industries and fields around the world to achieve transformation from normal connection to effective connection, extension from effective connection to value connection through continuous innovation of military and civilian integration and forward-looking layout based on 5G AIoT.
Established in December 2006, Shenzhen Sky Sea World Satellite Communication Technology Co., Ltd. is a comprehensive communication technology company that manages and operates its terminals under the satellite communication network. It is committed to promoting and applying satellite communications to civilian use. In the traditional means of communication can not reach or can not provide service areas and situations and solve problems through satellite communication, establish a stable and reliable communication network, thus achieving voice, data, Internet, networking and other communication modes.
It is reported that this strategic shareholding plan is that Kingsignal will invest 22.5 million yuan in the shares of Sky Sea World, and the two parties will share intellectual property rights in the field of satellite communications.
Connect the world, create value, between the sky and the sea, there is much to do, Kingsignal strategy to invest in Sky Sea World, the two sides will join hands to operate together to create a better future!